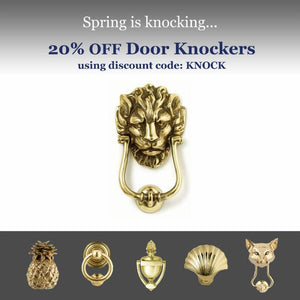 Brass Door Knockers on SALE
A Big Sale is Knocking on your Door. All Jefferson Brass Company Door Knockers on sale for a limited time using Discount Code " KNOCK "
Shop the Door Knocker collection in April and May 2016 to get in on this deal.
Remember to type in the Discount Code KNOCK at checkout to redeem this offer.
Each Jefferson Brass door knocker is hand made, cast flawlessly in heavy solid brass, to jewelry precision and standards. Our collection of door knockers offers simple, elegant designs that are suitable for all types of homes, from colonial to contemporary. They are of superior quality and are truly performing works of art. These door knockers will require polishing from time to time. If you choose not to polish, they will naturally turn a beautiful aged color, resembling bronze, that some of our customers prefer. They may also be lacquered to preserve the original bright hand polished finish. 
---